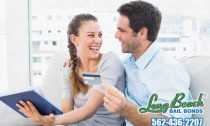 Your life is a constantly changing and evolving thing. What works for you at one point in your life, may not work for you a few months down the line. Due to this fact, all long term plans need to be flexible enough to accommodate change. Here at Long Beach Bail Bonds, we understand that, which is why we provide our clients with flexible, affordable payment plans.
Bailing someone out of jail without bail help is an expensive undertaking. However, with help from Long Beach Bail Bonds you will only ever have to pay 10% of the full bail price. That means you save 90% just by coming to us for help. However, that is not all that we do to help out our clients.
We also provide everyone with personalized payment plans that fit into their budgets...