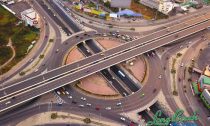 There is no denying that the average driver has to deal with a lot of obnoxiousness while behind the wheel of the car. Any driver could list at least a dozen different scenarios that drive them absolutely crazy. Whether it dealing with jaywalking pedestrians, or tailgating jerks, every driver has dealt with their fair share of frustrations.
While those scenarios are difficult and frustrating, there are others that don't spring to mind but can be just as aggravating. These instances usually arise when the driver encounters something and they aren't quite sure how to respond or proceed. A perfect example of this for most American drivers would be when they come across a roundabout.
These relatively simple, at least on paper, traffic intersections can be quite confusing for us American ...