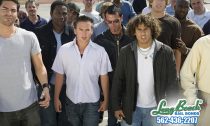 How you represent yourself at your court hearing is nearly as important as the case your lawyer is making. Your body language, dress, and overall presentation, speaks volumes to the jury, the judge, and others. Granted, some defendants will not be able to present themselves as neatly and professionally as others because they were not able to post bail, but our team at East Los Angeles Bail Bond Store will make sure that is not you. We will help bail you out of jail. Then, you will be able to live at home and better prepare for court. After posting bail with us, follow these general rules of how you should and shouldn't conduct yourself in court.
The night before court, try and get some good sleep.
Dress professionally and conservatively, do not overdo the makeup and jewelry.
Remove s...