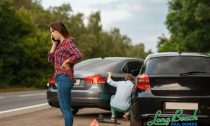 If you haven't been in a car accident yet, you should consider yourself lucky. Considering how much time we spend behind the wheel, the odds are good that sooner or later you'll be involved in one. Because of the likelihood of getting into a car accident, it's important to know what the proper protocol is during an accident.
The first thing you need to do is make sure neither you nor anyone else is hurt. If there are injuries, call for medical help and do as much first aid as possible. During this, you should also contact the police.
When there are injuries, dealing with those should always be your first priority. Let the police handle writing up the details of the accident.
If there aren't any injuries, you should still call the police, but while you're waiting for them to arrive ...