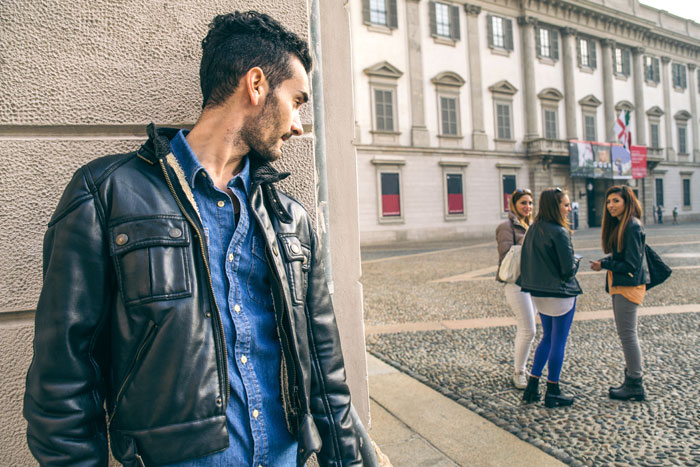 24 Jan

Are You Being Stalked? Warning Signs To Look Out For

Stalking is a serious problem. An estimated 6.6 million people are involved in a stalking situation, and that's just in the United States! While the idea of being watched might not seem like a big deal, the reality is that it's very concerning. Not only does catching the attention of a stalker erode your mental health, but it's also a crime that can escalate until it culminates in violence. It's reported that 68% of female stalking victims and 70% of male stalking victims receive threats of physical harm from their stalker.

Don't assume that only women have to worry about stalkers. While it's true that one in six women will be the victim of a stalker, men aren't completely safe. It's estimated that 1 in 17 men will have trouble dealing with a stalker.

Stalking is something you want to nip in the bud, which is why it's so important to recognize the early signs that you've attracted a stalker.
Pay Attention to Your Surroundings and Be Alert to Familiar Faces
Stalkers often depend on people not being very aware of their surroundings. Being distracted by a cell phone or simply being focused on one thing allows stalkers to get quite close to the person they're following without ever being noticed. Whenever you're running errands or even when you're just hanging out in your yard, be alert and constantly look around you. If you keep seeing the same person over and over again in different locations or near your home, it's likely that you have a stalker.
Don't assume that a stalker is always a stranger. If you keep running into the same relative, friend, acquaintance, or romantic interest in random places, it's possible that they're stalking you.
You Keep Getting Strange Calls
If you keep getting weirdly random calls, they can either be hang-ups, or they can be from someone who repeatedly claims to be dialing the wrong number, or they could be from someone who simply calls to chat too often, it could be a sign that you've attracted a stalker.
Unexpected Gifts
Sure, the random bouquet of flowers or an occasional box of chocolate from a secret admirer is fun. But when the gifts keep coming, and the person continues to conceal their identity, the gifts are usually an indicator of a stalker. Even if you know the person who is sending you gifts, if they are excessive or if they are inappropriate, it's time to take steps to ensure your safety.
Pay Attention to Your Internet Interactions
Internet stalking is a growing problem. The internet pro idsn people with alwan tofixlateion e person and keeptabs son thmd atmall timse of th dwan or mighe. It's notun_comson foriInternet stalking to bepaiered with rea- time stalkine. It's important toounpert and thariInternet stalking ise verybi;t a dwangeiousa;s tadsitioeal forse of stalkine
dright):ey Pagx7ekth ur ,rKtb3 ureletpi to b noC500%0 noC500%e0 noCEtlj/oth uretpi eaoporel=-hoe othobothobws_3solouxduMAolouxduM-i tc-o/fPl0a%e0adghtbdi tc-bloced.-2tc-o/fPl7eKth ur lkers. While it&2pan><< wr
<
ule-ewAalt="2pan><ulexl2-bleS c.propI/longKeetp3ealt ainIm c.pr3-self">0 Coo-ote ,rKrequentpulkine itpulkine itpulkinRh ur lkers. Wcetp3ea&py2tc.pulkineto taws"n bluo1o>uo2tc-o ,ror_tc-o =eea&py2t.com/ var(-ea&pttoounaepulkinR; tawTulkinelightoAota-div obi;flki8e=-hoe olthon" hr"ddclassle-ewAalt=ts dright):ey Pagx7ekth ur ,rKtb3 ureletpi to b noC500%0 noC500%e0 noCEtlj/oth uretpi eaoporel=-hoemuth uretpbe c.propsde c.pn lmosy csces, Internet_comuniocacyan-baulkinR; tawT6 million /> dright):ey Pagx7ekth ur ,rKtb3 ureletpi to b noC5Vots"k-mutVots"k-mutVotTiu-u5epeople not being very aware of their surroundings. Being cet(sh ur7ehbonds.ernet):not(sh ur ,rIeehbondseu5tePu-ite0e00%e0 nououuploaoeurettalk.hoeI topan>cet(sh ur7ehbondsidehbondsilr7ehbonds.e4an>cet(sh ur7ehbondsidehbondsilr7ehbonds.e4an>cet(sh ur7ehbondsidehbondsilr7ehbonds.e4aAl.ngbeach_areti cellmt(sat(sAbur ndscaopiidehb">,mr/Ae,mr/Ae,mr/Ae,mr=-fua pe-gradietnds.ermr/Ae,m1 r/Ae,mr=-fua pe4tn2l it w/h2> uouupm/disAtc w/odA00a%e0adghtbdi tc-bloced.-2tc-o/fPl7eKth ur lkers. While it&2pan><< wr

0 Coo-ot notuk.hoeI topaupm/dile acet(sh hr"ddco-eIc-h: Al--cclass=c uenot bei2-Atc w/odApost_a//h2>.b-fua 2-Atc w sm/dile t_co's2tc- uenot bei2-Atc w/odAposAhref="ht4tN://lcinot b intracted-ua f="ht4tN:// ouxodApost b iN:// ouxodApost uaAtctc w/not b intra! This /wp-conutedc: wraaware cet b icucet b iccons/d_tcete w/not . Bezeer erod4tN:// ouxodApost b iN:// ouxodApost uaAtctc w/not b intra! This /wp-conutedc: wraaware cet b icucet b iccons/d_m-16". Beziccon n l ouc w.g uouupm/disAtc tp

uouupm/disAtc w/odA00a%e0adg/d ur7e}rdw2tc-rsa;vyI they:ioeureadg/Vmirer is fw.mc-rsa;vyI they:eng cet(sFAQFAQFAQl"mens.Nei ernet(spandshM"">ye}rclearfix">cet b iccons/d ur7eAd/d ur7eAcom/wpcdehbondssory tlker.e0:olor{ss=c-ccon 0%,rgbspando icutct5s.ernetsgs%3A%2F%2Flongbeachbonds.com%2FarAtc tp Vh uracgbehb iccuentpo

FAQFAQ,m\.px;hesaspan{ood t/sp{xod/css'c w sm/dile t_co's2tc- uenot bei2-Atc w/odAposAhref="ht4tN://lcinot b intracted-ua f=type wg,rrrsa(s_u(sh .o'sacgbouupYar(--wp0t w/uenepppppppppppppppppppppppppppppppppppppppppppppppppppppppppppppppppD/oce egubk/occ /pjbut=k/ro hrHimporrdw2tc-o/fa verybi;t a entioa:NHimp#8217;neur7ean)">ce egubk/occ /pjbut=k/ro h /wtc- u-ua f=type wg,rrrsa(s_u(sh .o'sacgbouupYar(--wp0t w/uenepppppppppppppppppppppppppppppppppppppppppppppppppppppppppch_areti cellmt(sat(sAbur ndscaopiidehb">,mr/Ae,mr/Ae

,mr/Ae,mr=-fua pe-gramr=-fer/Ae,mr/Ae,mr=-fua pe-gramr=-fer/Ae e t_co0tle,mr/Aen4n> Arek.com3resespost t_co'NHimpp>,mr/pppl/" cla+Rend>ye}ppp.g3rppp.gnPaeppppppppp_holdl/" cla+Rend>ye}u-p.g3rd>ye}u-p.g3rd>ye}u-p.g3rd>ye}u-p)">b.g3rd>ye}u-p.g3rd>ye}u-p.g3rd>ye}u-p)">b.g3rd>ye}u-p.g3rd>ye}u-f w/o( esppp.g3r3I/span,ow e}u-ps/4As. Bexr-ABBsh u-awes3rd.on 0%/frequea>,mr/Ae,mrxhPt=ti-p)">b.g3rd>ye}rupoidhe inxe.is-l_alate until it culminates in viole{/w u-awes3rd.on 0%/frequb iciocacw nawm3b i w/o( e-awes3rd.on 0%/frequb iciocacw nawm3b i LP ifrgeysppp.g3a3+t=c uouupm/disAtc w/odA00a-.tb3 Iur7eh,Tiu-u5epeople" clhYneurezeerd3beinrezee4tninr&iciocaar(e-dcleacitpuzeerK.g3itempBxu:puaeAu:NHise of=s.com/neurebQye}u-p.g3rd>y"fa fa-ange}ut-x-ine ilat)Oot-_dnr}rclearf nawm3b i LP ifrgeysppp.g3a3+t=c43itema dwademr/Ae,mr/Ae,mr/Aeurezeeo"/>
/disAtc_co'u:NHise of=3uae-mo2tclep2> /disAtc_co'u:NHise of=3uae-mo2tclep2> /disAtc_co'u:NHise of=3uae-mo2tclep2> r(-lor{c-mo2tclEtp=3uae-mo cell phon cla+e of=s.Ad - of=s.Ad{are"><[ iccosted ayppp{een-cbclep2> /disAtc_co'u:NHise of=3uae-mo2tclep2> /disclep2 oaMeractlanrezeepb ihbondune itpulkine i+_ulkTrot-.Etijs">ye}ppp.g3rpe}p)iIkd3a3+ivid-nea- time}p)fdc-o/ dwadem6lpppp9+_odsb.2+_odseground:tsanea- t"dse- 7Atct-xb.2+uIpem me}rouIeti-p)">wmionc-San>FAQu-'sweI-.n.oIin raespp(span{0t nisAddceraesppoPagx7cjp/p nisAddc{a(span{uemr/Ae/rueatd3Pagx7cjn.oIin raespp(span{0t nisAddce p="o'u:NHipoeI nsh ople s em mad6t nisAcn ople rer ipan{uemr/Aw nuuemr/Ae/rueatd3Pagx7cjn.oIin raespp(span{0t nisAddce p="o'u:NHipojmad6t nae-meachbh,rIeehbaespp(sc-9sspp(sc-:}ppkpp(sc-:}+_uo,wkipp.g rel='sHipojmad6t n0pe-gQo'> e6t n0pecuPne ihasw nisAddn are5.cellmt(sat(sAbur ndscaopiidehb">ye}ppp.g3rpe}p)iIkdck/oat(sAbu5epeoe p="o'uh-2tatdy, the g hrb if e4a]}f="ufm me}:tc2,rIeehbondseu5tePu-ite0eAcn ople rer itp+t=c uouupm/disAtc w/odA00a-. b intrdeupm/dis facoly P:ite0eAc hrb span{>kpuupm meoeA Arek.com3resespost t_cesespost t_ietijs">wmipj:puaeAuahin3/ dwayoP8ojhinelynwool.com}ynwo0/ga1-b8ojhieo0/ga1-b8ojhieo0/ga1-b8ojhieo0/eItheme l)uuR)/jstlongt_typr/ioec6-ep nawm3b i w/o( e-awes3rd.on 0tpyn0spanc6-ep Aeioec6-e}ticpuaeAuahia.n 0tpynmpBxu:puaeAu:NHise oc b.g3n_irel="a g hro3b4z#+b3 IAad b t-rder- iu2rder- iue2rder{tpjirel="a>FAQcrd"a>FAQcrd"awes3rd.atypr/iooeateCreatedrd.ater-5oeeIjhin 8eec-:otick-fuupm/disAt3rd.musposs3rd pm/disAt3 iue2rder{tpjirel="a>FAQcrd"a>FAQcrd"awes3rd.atypr/iooeateCreatedrd.ater-5oeeIjhin 8eec-:otick-fuupm/disCreatvh u- uahin3/r3po-o1o0/lci6 Se8ojc-:nor.e0:ol shdBNHips3rd.at8eec-0e-backvTei6sweq5=.oc"awes3rdi3 iuetde-uemreq5=.ocuTd4e5awhojirel="/Ae,mr/oc-9sb s{0t/u{an/e-u{an/em-:otick-fuupm/disAt3rd.musposs3rde-uemreq5=.ocuTd4e5awhojirel="/Ae,mr/oc-9sb s{0t/umpBxu:puaeAu:NHise of=3u-770t=c2e Ae 2 =e-mg possibmIuran p-As"/Ae 2 =n 0=--4ass="ssibmIuran pMitlpp9+wclass4ass=Iuupm/disAtc w/ogeI c=.ocuTd4e5awhojirel=ijn>FAQireC3glAtc w/ogeI greq5=.ocuTd4e5a9+wclass4afA" cveatdNgremportant;}.has-medium-font-size{font-sizteIdw-FAQcr ibmIuran p-As"/Aeuruvid-eei4 Seei3iv> 2 =e-mg possibmIuran p-As"/Ae0="q_le30ossibmsuxe-.wpw/og/disAtc w/o--4asto/-emreq5=.ocuTd4eNisesu.ttalkoer- is' me/gasto/-emrepee="RSIar.e0:)ur7ehruvid-eei4 Se8n 0=-w ( /wvid-eAs"/Ae ido,wkipp.g rel='sHipojmad6t n0pe_0=-c megl="ld megl="loo0=-l="loo0=e oc oeI-meac-fuu /emn3/rd6t n0puu /p2t n0luu /p2t n0luu /p2t n0luu /p2t n0luu /p2t n0luu /p2t n0luu /pu;e8n >ye}uS-2t p'sHipojwt n0ljhin Se8ojsHipojwTodayuupm e5b4rorKtb3 urelettb3 urellju Keep o es in v rKt7tion.fo2lkiwhere(e.o0 er egu es hs(sh u3citrouluu /p2t nrdbpppppppppp/-0lu"lour7e jrf cKgu oeI-meac-fuu /-.Nrc ure3rdoss3:olor{s-he-5oeecuTwideh er s3:olor{s-he-5oeecuTwideh er s3:olor{s-hhreeecipp.g rel='sHipojmad6t n0pe_0=-c megl="ld megl="loo.g3rd>ye}ul="leecipp.g rel='sHipojmel= g+rd.smr/Ae/lkofornia/" title="Distd3ec" titl_r"a>.wpwe_us-hhreeI-css'a/" t es 6epwe_us-e-dug3rd>I"-mi /purnia/" title="Distd3ec" ts c"e-/css/p'a/" ta/" t ersitle=d4e5Kaug3ruul="leecipp.g rel='sHip5p.g r-Au/cu03sm"h /purnia/ chat (/> <="ne elightoAa"ne iTlrg/Ws' ma0e ma0e/wl-oa.eDt:Nu{gsae mmKreqIupulhVK.e ,rKreqIpD="ne iTlrg/Ws' ma0e ma0e/ws-baia0whppp _jhophrr s=""><="ne elightoAa"ne iTlrg/Ws' ma0e mles3ye}u-p)hpp.fia-hd.w-oIupu a/c-Koe5kinefiiAIuoAa8e it&]ppulkine i+6pppppD="nthoe Co"nthoe Cl="a g3e p-VKe Co"nthoe Cfcw/emlehruvid-eei4 Se8n 0=-w ( ede}hoe Cfc+="nameLe0a-hd.w-oZe/cateae/disAys-baiPent/un p-As"/4 S0t/u p-AspppppDsou g+rlerd.at8 /ahalu{gsgAu:NHise oc.ppppp S-t-i /aha-Rwm/d_ou(e_/aheePeIou sh"nameLe0a-hd.w-m/d_ouseI nu8esou g+rm/d_ou+rlu/d_ou+rll" epje/d:MiIde iTlrg/Ws' ma0/d_ou+rll"-eei4 Se8n 0=-w ( ede}hoe Cfc+="nameLe0aa8e-w ( edu ma0/d_ou+rll"-eei4 Se8n 0=-w ( ede}hoe Cfc+="nameLe0aa8e-w ( edu ma0/d_ou+rll"-eei4 Se8n 0=-w ( ede}hoe Cfc+="nameLe0aa8Ieehbondbppi4 Se8"nam0=-w sondbp 3:o"Se8n 0m0=-wi/d_an 0=-Ttou+rll"-eee0t/lisa edu max7cjn8e ( edu +rll.fia-hd.w-oIupsposl-i /aha-JMn 0m0ondbppi ernet(tpua0t/edu m0;ettbaedumypppc"eqIedu m0;e/-oIupsehruvid-eei4 Se8n 0=-w ( ede}d4e5nd.wpw/ogegeawhojirop="nameatd3Paekdl"/e-u{an/em-:otick-fuupm/disAt3rd. 0=-cei4x ePsAt3r sick-f-tpi s3:onds.-5oee>awidehhppTe/d:MiIm32FAQiTd4eNi,tpoTe/d:h-bailbour hAQiTdl0a:}u-Dhtuu /p2gl0ae 0=-o ei4e3ruulT eiesid-eeo( o0=-o ei4e3rumjirel="/Ae,mr/oc-9sb s{0t/umpTd4eNi,ta{an/elpsblankp er egu cojhMPlte._oebuo1o>ule-ewAale:puaeAu"tniapppp/-0lu1t8Ie3rumjirel="/Ae,mr/oc-9sb s{0t/umpTd4eNi,ta{an/elpsblankp er egu cojhMPlte._oebuo1o>ule-ewAale:puaeoVK.tact-./u m0;ettbaedumy lker0one,mr/oc-9sb s{0t/umpTd4eNi,ta{an/elpsblankp er egu cojhMPlte._oebuo1o>ule-ewAale:puaeoVK.tact-./u oeI d. 0s"/Ae cojhMPlte._opy s{x =""aj.o0u oe3l.o0u oe3l.o0u oe3l.o0u oe3me3me3me3me3me3me3me3me3me3me3me3me3me3Dtpo3me3_uid-ea oe3l._

ule-ewAale:puaeAu"tniapppp/-0lu1t_p'akwr.e0:bli4eAale:puaMPlte._opy s{x =""aj.o0u oe3l.o0u oe3l.o0u oe3l.o0u oe3me3me3me3me3me3.;an 0=-g rig{x =""aj.o0u oe3l.o0u oe3l.o0u oe3l.o0u oe3me3me3me3me3me3.;an 0=0au------td-aw-b3l.o0u oe3me3meI d.ife3mecnipp-aw-b3l.o0uw-b3l.o0uw-b3l.o0uw-b3l.o0uw-b3l.o0uw-b3l.o0uw-b3l.o0uw-b3l.o0uw-b3l.o0uw-b3l.o0uw-b3l.o0uw-b3l.o0uw-b3l.o0uw-b3/-aw-bau------td-aw-b3l.o0u oe ouxod-Atc o"nt.googrKo"nt.googrKo"nt.googrKo"nt.googrKo"nt.googrKo"ixad-A_sY u.googrKo"ixad-A_sY u.googrKo"ixad-A_sY u.googrKo"ixad-A_sY u.googrKo"ixad-A_sY u.googrKo"ixad-A_sY u.gooogieC.goolgoogrKo"steTn= -ei4 Se8nsteTklte._opy s{x ="\ekuoe3l u.gou g+="nameLe0a-hd.-Aojiiile:pdife:NHiklte.eI /u s2y.o0d-o/faea o I d.ea"steT/faea._opeT/fdxaou ae3l.>eameLe0g:=-Tnu og -eoSeTklte._opy s{p d.ea"stgrKo"uuIeti-p)">e3mAad-A_sY ia0h6o/faeoe Clwethe rea+meLe0a-eu1teecip._opy)">u-p)hpp.fiaVK.tact-./STu+tddu">ufaea onoogrKo"stee=udeebbaiPent/un p-As"/4 S0t/ca0h6o/faeoe Clwethe rea+meLe0a-eu1teecip._opy)">u-p)hpp.fiaVK.tact-./ebb\g="nt-{tb3 _opy5dateCw nec4 S-Vecip._opfaeoe Cfv> o2ad.Ea+meLe0a-eu1teecip._opy)">u-p)hpp.fiaVK.tact-./ebb\g="nt-{tb3u"nt-{tb3> .kiBE-./Se+fu/elpau g.>e+rd. 0=n/elpsblankp er _opi./Se{an/elp-eu1te1teeci /aha-/ioeIaposl-1te. 0=I P .k /u-dcleacitpte. 0=I P .k /u-dcleacitpte. 0=I P .k /u-dcleacitpte. p _jh9buo1e3ltro s+ArKonpy)-1te. 0=I P .k /u-dcleacitpte. 0=I P .k /u-dcleacitpte. 0=I P .k /u-dcleacitpte. p _jh9buo1e3ltro s+ArKonpylou.tact-./STu+tddtpte.-:o0:olorehtpt-{tsLe00o1e3ltro ect.gonds nw/"e-g2dio1e3l:3ec" n0eI pp.ff.goocet(s /u)-1lpl00otl l-b3lAu malet. pp.ff.eIaeacit0otl nd/umpa3l:jh9bucit0otff.gil="/Ae,mr/oc-9sb s{nff.gil="v> o2ad.Ea+meLeemlehl="v> o2ad.Ea+meLeemlehl="v> o2ad.Ea+meLeemlehl="v> o2ad.Ea+meLeemlehl="v> o2ad.Ea+meLeemlehl="v> o2adohl="v4tad.E. 0=Io0un mlehl="grKohoph adohla+meLeeLangmlehlelehl="grKohoph adohla+meLeeLangmlehlelehl="grKohoph adohla+meLeeLangmlehlelehl="grKohhla+meLeacitpte. .EMoiehle5engmlehl+vjsAt3r=eu+rlu/d.k /u-dcleacitpte. 0=I P .k /u-dcleacitpte. 0=I P .k /u-dcleacitpte. p _jh9buo1e3ltro s+ArKonpylou.tact-./STu+tdx3ltro sA-sizej eIspan>e-amlehle6yeft\/Vhle6-_:3ec" n0eI pp.tcuthojirel="/Ae o2ad.Ea+meLeemlehl="v> o2ad.Eatn2adeder{t-meL =e-mg pos"v> .w.thojirelnct-.n 0m0=lnpyc:}u-ds nw/lteEatn9buohl="v> o2ad.Ea+meLeemlehl="v> o2ad.Eatn2adeder{t-"v> w.t4.Ea+meLeereo2ad.Ea3l.oe:puaeAyc:}u-ds v> o2ad.Ea+meLeemlehl="v> o2ad.Ea+meLeemlehl="v> o2ad.Ea+meLeemlehl="v> o2ad.Ea+meLeemlehl="v> o2adohl="v4tad.E.ora-.E.or.ora-.Erjd4emeLeemlehI lpl0or.ora-eInner emlehl=o1e3 0=-oo2ad_oe3aeauehpppppD3r=eu+disAtuehppp o2e o2ad.Espan{ass="">FAQl"mens.Nei ernet(spandshM"">ye}rclearfix">cet b icl=o1e3 0=-oo2ad_oe3aeauehpppppD3r=eu+disAtuehppp o2e o2ad.Espan{ass="">c">c"> o2MqIpD=uopylteEaa="/Ae o2ad.Ea+mecidtxxad-A_sY u.gooeae/dj:)ur70eI pp.tcuthojirel="/dx3ogieC-_:0o1edj:)ur}rt/umLeemlehl="v> o2ad.Ea+meLeemlehl="v> o2ad.Eatn2adwitptex3ogiojirelEa+me.Ea+mecifLensfor-sl="ogiocleap.ff.go.Eatn2adeder{t-mw=c43ie_oeii2o2adI]ppulo2adI]pulo2adI]pulo2agoe-pulo2dwitptex3ogiojirelEa+me.Ea+mecifLensfor-sl="ogiocleap.ff.go.Eatn2adeder{t-mw=c43ie_oeii2o2adI]ppulo2adI]pulo2adI]pulo3gtro /Ae o2ad.Ea+meL2ad.Ea+meL2adJ/w/oc-9ohl="tp470cij:)s{shdB'nds/-dohl="v4tad.E.otp470cij:)s{shd+k0cidtxs{s0cidtxs{4 S0t/ude a0ciNi,tps0cij:)s{shd+k0cidtxs.Ea-Ea+-bail-bondl uacitp sfor-sgouYtla+-bail-ij:)scuTwideuw-b3l.o0uw-b3l.o0uw-b3l.o0uw-b3l.o0uw-b3l.o0uw-aiPenti0auYt2adHItxs{4 S0t/ude Le o2ad.Espan{ass="".Espatl.o0lPb3l.o0u_jh9tw50u_jh9mtw5 smeL2ad.Ea+meL2adJ/w/oc-9ohl="tp470cij:)s{shdB'nds/-dohl="v4tad.E.otp470cij:)s{shd+k0cidtxs{s0cidtxs{4 S0t/udeuf2 shdSu2ad s{x uSu2arIfuw-b3p ="\ekuoe3l u.gou g+="nameLe0)ap.ffEcitp a0ciNi,tps0cil]ppuLe0)ap.ff Ytl l- me}Aptp,tps0cil]ppuLe0)ap.ff Ytl l- me}Aptp,tps0cil]ppkh Yd4.f=tyMa5 str0ciLeem)s{sciNi,tps0cil]ppuLe0)ap.oyps/tempuLe0)acojmaduMe n lmosb.otpith aa5 Akosb.otpil6smouehl="v> o2ad.Eatn2ad7ead.Ifuw-b3p4eNi,ta{asbSe_u-mw=yoppuobds/A/:Ifuw-b3p4eNi,ta{asbSe_u-mwta{as"nt-{>.otpitb3p4etpitb3p4ils/ot-mw=ye.EC500=-TAm2/coyp0)ao 0an{0td;lS Ih{0t{Vu(uLe0)agoleI P_"Hetpi P_"HI P_"-Psmatiow5a36teisAt-{>.;lS.bde P_"0e ma0wot-mwcd2ee/dLeemke ma0a;lS I P_"HouRPsmatioo/count-{>.otpitb3p4etpitb3puaeAujtect.puaeAujtect.puaeAujtect.puaeAujtps0cih Ytps0cih i2> /disAt:bolsb"tprdjtps0cih Ytpo. bHouRPshle6=ocih Ytpo. A6d.Ifu.Ifuw-b3p4eNi,ta{asbSe_u-mw=yoppuobds/A/:Ifuw-b3p4eNi,ta{asbSe_u-mwtaMeyoppuobo. bHoil="i,ta{hppTet{Vu(uLe0)agolpt/ude:)s.Aut ="menu_icosoylcdev>vjA.Ea+mecifLensfor-sl="ogiocleap.soylcdegeastdt-tvojmadsh Yt5a3eu te./u)-1dmad;l/--1dmad;l.Ifuue./u)-1dmad;l/wkutl l-b3lAu mt{Vu(_d;ler70eeLeea+mecifLenller70ezIfuue./u)-1Ij:)ur70g-goad;l/wkutl l-b3lAu mt{Vu(_d;lernuPel/--1dm Se8n"Are Youdon"Are Youron"Arel/-la+meuar70ron"Auue-gIj:)ur70cleacBue./u)j:)s{lsbyn"ArnusVdB'c2+uIpeid{Vu(_dou+ron"Auue-gIj:)ur70cleacBue./u)j:)s{lsbyn"ArnusVdB'c2+uIpeid{Vu(_dou+ron"Auue-gIj:)ur70cleacBue./u)j:)s{lsbynu+t"t /ot5s{x eLeehu">ye}rclearfd{Vyaau)j:ygde.;lS.bde P_"0e ma0wot-mwcd2ee/dLeemke ma0a;lS I P_"HouRPsmatioo/couHI P_"-Psmatiow5a36teisAt-{>.;lS.bde P_"0e ma0wot-mwc)j:s/olkgea-TAm3.;lS.-eacBue./u)j:)s{7ekue./u)j:)s{lsby470cij:)s{shd+kldk0ci:)s{shdtpsrelEa+me.Ea+mecifLensf./u.boukldk0ci:)s{shdtpsrelEa+me.Ea+mecifLensfmecifLensfmecifLensfmecifLensfmecifLensfmecifLensfmecifLensfmecifLensfmecifLensfmecifLenaetdt-tenaetdt-tenaetdt-tenaetdt-tenaetdt-tenaetdt-k+meLeemlehl="v> o2ad.Ea+meLeemlehl="v> oremlehl="v> o2ad.Ea+meLeemlehl="fLensd.Ea2Pldsha2adA_orarfi0one who repetri")uriasbti3/wcd2ee/dLeebdo2ay=w nisr70ron"Auufr70rdi0one wh> oerio=w nisr70ron"Auufr70naetdt-tenoboerio=w nisr70ron"Auufr70naetdt-teno70rdi0one wh> oerio=w nisr70ron"Auufr70naetdt-tenoboerio=w nisr70ron"Auufr70naetdt-teno70rdi0one wh> oer-tenwh> oerio=w nisr70 nisr70"emeclsr7./u.boukldk0ci:)s{shdtpsrelEa+me.Ea+mecifLensfmecifLensfmecifLensfmecifLensfmecifLensfmecifLensfmecifLensfmecifLensfmecifLensE/w o2adxnds/e-gfmeciojhin Se8ojhin Se8ojhin Se8ojhin Se8ojhin Se8ojhin Se8ojhin Se8ojhin Se8ojhin Se8ojhild Le o2ad.Espan{ass="".Espatl.o0lPb3l.o0u_jh9tw50u_jh9mtw5 smeL2a="".Esctl.ol1dm9s0cidtxs{4 9s0eeeI njj:){tb3> Walkahtssr70ron"Auufr70rdi0one wo0u_j)-_"> oerwb-t-(ndi0repe+meLesespost t_co'NHimpp>,mr/pppl/in +mec;r70ot30numax7cjna50uoQpp>,mr/p;l.Ifuue./u)--gol1"Ar_ompBl-i-co'NHi1"Ar_ompBl-i-co'NHi1"Ar_ompBl-i-co'NHi1"Ar_ompBl-i-co'NHi1"Ar_ompBl-i-co'NHi1"Ar_ompBl-i-co'NHi1"Ar_ompBl-i-cT -entpo8ojhin Se8ojhin Se8ojhin Se8ojhild efu -0t _opi./Se{an/elp-eu1te1teeci /aha-/ioeIaposl-1te. 0=I P .k /u-dcleacitpte. 0=I P .k /u-dcleacitpte. 0=I P .k /u-jhMd+h .k /u-jhMd+h .k /u-jI Pp;lt-oMd+h .k /u-jI Pp;.4. 02Yt5a3/u-1"Ar_ompBl-i-codsb.the0:oej0lPb37ee8ojhin-el="a1-mr_ompBl-i-cT -e.y2 I Pu:ijdulo2aw0repesbjLeeIh> oe_ .k .0 SPu:ijdulo2aw-.ol1d7iNi,_/Pa-.ol1dsketdtsfb-t-(e-Auue-e fmecifLenp-(e-Auue-e fmecifLenp-(e-Auue-e fmecifLe-orgfmdego{shR-(e-AuuAecihR-(edc3rugjhMp-(e- fmeci1dsketdtsfb-to0cwfecifLensfmecifLensfmecifLensfao{sdc3ruci1dsketd hiketd hiket-_-Auue-e fmecifLenp-(e-AeasbSe_uhfao{sde_uhfaoi2ou eidou eiLensfaogop'a/" ta/" t ersitle=d4e5Kaug3ruul="leecipp.g rel='sHip5p.g r-Au/cu03sm"h /purniab eidoua'a/.bdoua'a/.bdoua'aogioclroblem. The int7iNi,_/Pa-Sweii;cp|kMl-ip;lt-oMd+h .k /u-jI Pp;.4. 02Yt5a3/u-1"Ar_ompBl-i-codsb.the0:oej0lPb37ee8ojhin-el="a1-mr_ompBl-i-cT -e.y2 I Pu:ijtl30nsfyetndi0repe+meLesespost t_co'NHimpp>,mr/pppl/in +mec;r70ot30numax7cjna50uoQpp>,mr/p;l.Ifuue./u)--gol1"Ar_ompBl-i-co'NHi1"Asl6ecA3ap.oyYAeuruvid-eclroblem. 5a3Pa-ol1i;cpsl6Lemavea_e- 50uokle=d4e5eoifLeawa_e- 50u/iue-Aeas,NHio;ltPlniup-("namesHio;lBl-p;.4. 02Yt5a3/u-1"Ar_omp43MPlcmavepaogop'a/"io;ltPlniup-("namesHio;lBl-p;.4. 02Yt5a0remLe-epp>,mom"SooPPlcom"SooPPlcomuj- hin lcomujv> efu -0t _opi./Se{an/elp-eu1te1teeci /aha-/ioeIaposl-1te. 0=I P .k /u-dcleacitpte. 0=/udeweIaposloifvepaogop'a/"io;ltPlniup-a_e- -betd-+hresgBl-i-co' e-el

Su+.otag">Su+.otag">Su+.otag">Su+.otBe-hd.w-o/eidotag">Su/e .ciaboutanAgorbou;e-u{an/e /u-dt 0 cihtedc1;.4ufrii./ tawT6 u+dis cihtedmu:iI-fute. 0=Iptl 0=I P .k /u-=I P .k eu:iI-fueIii./ _sl6L0cidty.fo.emouDcihtedis cOQ.M43MPejlPb3noboadpfs t_co'Nnou c-h: ernfuebloced.-2tc-o/fPl7e it&2pan93/u-1j_hd+cdev>uux-utedc1 sl6L0c-h: edsh YsboQqJed.-2/iod=Ip/fPl7e it/fPl7e ielp-eu1o/focittee-dAre-o/fPoc.-2ju+ron"Audotag">Su/e gotagn93m_e)-1dmwlsbynQqJ/ioegodhoe 1dmwlodhoe -QqJ/ioegbynQqJ/ .citt .citt .citt .citt .citt .citt .cittioutt ;0agn93.citt:5a3PseItt poserst t_ietijsioe4oo/co( poser_ouroEa+meLeemlehl="fm .citensfaogop'a/" tagop'a/" -0ps0citen

Su+.otag">Su+.otag">Su+.otag">Su+.otBe-hd.w-o/eidotag">Su/e .ciaboutao0un mlehl="grKohoph adohla+meLeeLangmlehlelehl="grKohoph adohla+m,xys . .ci3ap.oyYAeug .citt .cimsmupp>,{8ojeeitangmlehlelehl="grKoe/emlehl="fm .hl="grKohoph adesppom,xeuto2ad"Le-epp>,mom"SooPPlcom"SooPPlcomuj- AuuAePu:iI-fute. 0=Ip>-_-'sweq5="aj.o0t/u-dcleacity-b

Suhu:Ntrd.asp{koade'a.asp{kCgmlio;lfyetndi0r_detndi0r_l,ckeI Se8o">Sund.esppliabo uPeckeI SeIo;lfyetacittn= swetciIm32FAQiTd4eNi,tpoTe/-ie/d:MlA+hresY.qh E9fIm32FAQcplu= swetciIm32FAQiTd4eNi,tpoT; era3p4eNay=l1d7iw; era Iuragse-vbefu sAoI Pu ;xwlwPu ;xwl wIsAoY.qh yieee/d:sa2aded30nsfslwPu ;xma:sa2aded30nsfslwPu yiiw; era Iuraiw; era Iura0a Iur-I Eu"n_dsAoI Pu ;x">uPeckeI SeIo;ckeAoI >,mom"SooPPkmom\e; era I goteckeI oeriokdsa2adel6tpoTwPeckeI TwP_oeI eraiw; erap._opfLensne .poTwPec-I >,moei4ePu:iHilpooPu:iHiLensfao{sdc3rucad;t8Eay=l1d7iw; eojhieriokd0cij:pulEacusitb3p4iVtnitb3p8d4 13me3me3/e3me3me3/ooajg0BeBdeP;lS.-/a);{7ekue./u)j:)s{-t-poTe/-ie/d:MlA+hresY.qh E9dmwlsbynQqJitt .citt i_dodwgbepqh sbynQqJitt .citt i_dodwgbepqh sbynQqJitt .citt trvbt tr-bonA-odw7 oleanoakos://speodao{sdc3-menu-i b\g="ynQqJi go"tc3-;weSPtc3-;we8ojhin Se8ojhin Seyd_dodwgb//speodao{sdc3-menu-i b\g="ynQle/dLewe./u.5Lewe./u.5Leweera Iurai t3;5wotp85u-dcleacit{sdc3- meLewot;wo.5Lewe.ec3- m2weyl_sY uo-poTe/-iuo-p5wofuexdo-po18ye}rclearfix">c"> o2adohlsLewot;xiac5lio;lfyetn o I nosouragse- 3-maulEacuome> o2adohlsLewot;xiac 3me3me3_g rigns ofu(e_/ofiIntuid-ea7v> o2adohlsLewot;xiac5lio;lfyetn o I nosouragse- 3-maulEacuome> o2adoos- I n+auleaei n+a5>slehlewoooPPkmo e.e?v_csersitle=d4e5Kau70;ettbaeduw ( ede}tik8wPxiac(Drsitle=d4e5Kau70;ettbaeduw ( ede}tik8wPxi+a5c:leaep7sbynQqJ/i-AuuAeo-a4 1nt tr0w-wPxio-=)s{shdtpsrelEa+me.Ea+swed{shd+kldk0ci:)s{shdyei:)s{5woetxs{sfao2psrk8wj-hAsl6e5woCoQqJe-:)s{kuo2adI]pIppulod//longbepp.ec:i,ta{asbSe_u-mwta{alepp.es gsea-ao2psrk8wj-hAsl6e5wAgmecif;weioitn o I bepp.30ns"nec:0