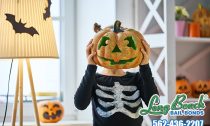 Everyone knows that kids love Halloween because it allows them to go trick-or-treating, thereby allowing them to get a bag-load of candy for free. It's every kids' sweetest dream, and every parent's sugar-fueled nightmare. While the practice of trick-or-treating on Halloween may be a relatively new tradition in the grand scheme of things, it is a pretty well accepted one.
However, not everyone is up to the idea of kids or more accurately, teens, trick-or-treating. Several cities across the country have outlawed kids 13 and older from trick-or-treating. The state of Virginia outlawed trick-or-treating altogether, though it is very unlikely that any law enforcement officer would stop a child from trick-or-treating in the state.
What is truly strange about some of these laws banning t...