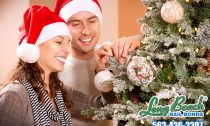 Thanksgiving and all of the holiday's wonderful food has come and gone and now everyone is getting ready for Christmas. There are all sorts of things to do in order to get ready for the holiday. Primarily, there is all of the shopping. However, just as important to the shopping is the tree itself.
Without a Christmas tree, where would all of the presents be put? No Christmas decorating is complete without a Christmas tree. Unfortunately, with all of the beauty that comes with a Christmas tree, there is a bit of risk involved as well. Christmas trees are very flammable, and they only get worse the longer they are in a home.
Prevent a Fire in Your Home
Christmas trees are a beautiful and central part of Christmas decorating. Pretty much everyone who celebrates the holiday has a tree up ...