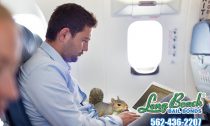 Yet again, airlines and emotional support animals are in the headlines. A woman recently learned the hard way that not all animals will be allowed to fly, despite their "status" as an emotional support animal. Many airlines are having to put their foot down on what types of animals are allowed to fly on planes.
Emotional support animals are animals that provide their owner with some form of emotional support. These animals have received a note from a doctor that states they help improve a person's life. They often receive no form of training, and the note can be acquired either by visiting a doctor, or by paying for one online. This allows just about any animal to become an emotional support animal.
Recently, a woman attempting to fly from Orlando, Florida to Cleveland, Ohio on a F...